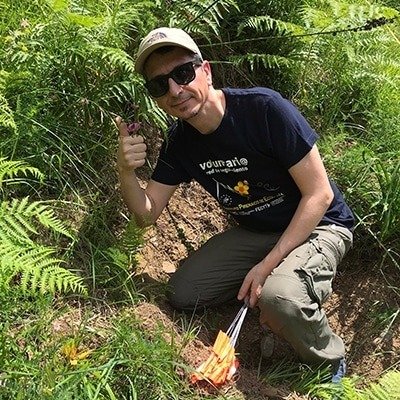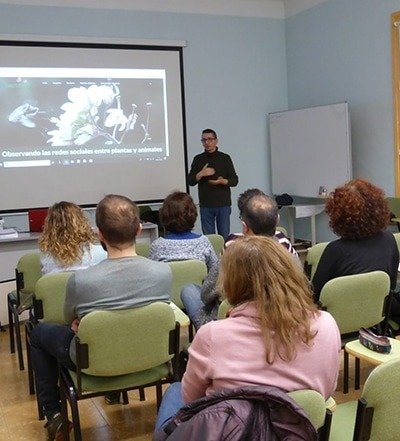 I am above all a curious person since I was born, and my two passions, science and drawing, have grown with me since I was little.
My training has gone parallel into both fields, although my work for the last 25 years has focused on communication.
My studies of the degree of Environmental Sciences (UNED) give me a multidisciplinary vision of the skills related to the environment: botany, ecology, geology, entomology, cartography,… but also on natural landscape and cultural landscape.
3 years of the Geology career (University of Zaragoza) allowed me to study, especially paleontology, internal and external geodynamics or geological cartography.
My training in drawing began with barely 10 years, that I've completing with numerous specific courses:
University of Newcastle (Australia) – Drawing Nature, Science and Culture: Natural History Illustration.
Infographic techniques – Fernando Baptista (National Geographic)
EUDE Business School (Spain) – Expert in Marketing, Advertising and Communication.
UOC, Universitat Oberta de Catalunya (Spain) – Multimedia Graduate.
In more than 25 years of work, I have been entrusted from small images to large museum projects. But ultimately, the important thing is what we can do together from now on, so …  let's do it!
Some entities and companies with which I am lucky enough to share projects:
Instituto Pirenaico de Ecología – CSIC
Spanish Network of the United Nations Global Compact
Ecología y Desarrollo Foundation – ECODES
Fotografía y Biodiversidad Association
Fundació Mediambiental – Els Ports-Maestrat Foundation 
Sancho de Beurko Elkartea Association 
Awards and exhibitions:
Finalist 8th edition of the International Prize for Scientific Illustration "Illustraciencia". National Museum of Natural Sciences of Madrid and Catalan Association of Scientific Communication, 2021.
1er. prize photo competition. "El Güeira" Cultural Association Vistabella (Zgz), 2009
2º. prize photo competition. "El Güeira" Cultural Association Vistabella (Zgz), 2009
1er. award in the category of reports. Photography competition "Domadores de Fuego", Muel (Zgz), 2009
__________________________________________
Exhibition "Naturaleza Vida". Outono Fotográfico, Ourense 2001
Privacy policy
I inform you that the personal data that you provide us by filling in this form will be processed by Vinyes C.B. responsible for this website. The purpose of collecting and processing the personal data that we request is to be able to attend to your request for information, and in no case will they be used for a purpose other than this, nor will they be transferred to third parties. By checking the acceptance box, you are giving your legitimate consent for your data to be processed in accordance with the purposes of this form described in the
privacy policy.
You can exercise your rights of access, rectification, limitation and deletion of data at
info @ comunicandoconlatierra .com
, as well as the right to file a claim with a supervisory authority.